HARD PURE A N-TYPE ANTERIOR TEETH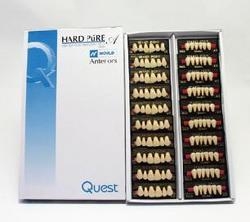 New Mould Anterior Teeth harmonize well with the human health.
By keeping a moderately thick labiolingual plane, the teeth will be arranged simply and can give an ordinary, natural feeling.
The original hard resin material provides top performance of high wear proof(Abrasion), color stability proof, discoloration proof, and a natural teeth appearance of Aesthetics.
■Full denture, Partial denture
●Mould:Maxillomandibular each 16 types
 (SQUARE) / NS1、NS2、NS3、NS4
 (TAPERING)/NT1、NT2、NT3、NT4
 (SHORT SQUARE)/NSS1、NSS2、NSS3、NSS4 
 (COMBINATION)/NC1、NC2、NC3、NC4
●Shade:A2, A3 and A3.5
●Packaging:
 Anterior Teeth 1 box/ 6 teeth set x 20 lots(120 teeth)
 Anterior Teeth Full types(Same Mould) / Maxillomandibular each 16 types (32 pairs of 192 teeth)
 One Part Anterior Teeth Bulk / 1 box 20 pieces per 1 region